1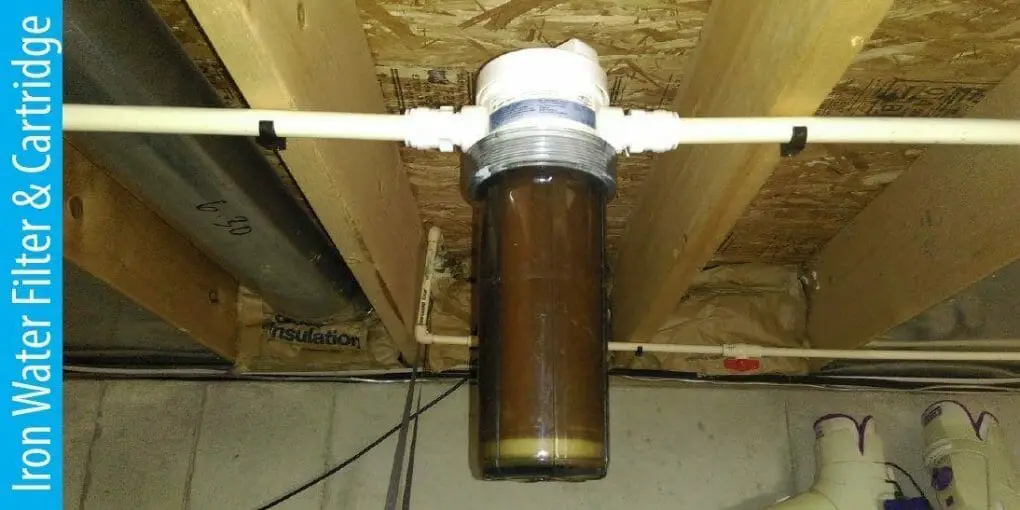 Best Iron Water Filter And Iron Water Filter Cartridge
It is very common that people face manganese and iron problem in the water supply of their houses. Surely the problem is serious and unpleasant for the householders.
If there is the slight presence of these things, water will be unsightly brown and keep stains on kettles, sinks, and baths, washing machines, dishwashers, tiles, clothing, and showers.
The invisible presence of the problem will cost lots of expenditure to clean the affected appliances and remove them as it affects smell and taste too. High concentrations of these things aid water to be undrinkable and brown.
Best Iron Water Filter And Cartridge Comparison Table
Iron Pro 48K Combination Water Softener & Iron Filter with Fleck
Camco 40631 EVO Premium Water Filter
Pentek 150233, Big Blue, 1" In/Out
iSpring Big Blue High Capacity Iron Reducing Replacement Water Filter
Home Master Radial Flow Iron Reducing Replacement Water Filter
iSpring WGB22BM 2-Stage Big Blue Whole House Water Filtration
APEC 10" Whole House Replacement Water Filter Iron
Facts about Iron Filters
Options for Iron Removal
An iron problem keeps red-brown stain on laundry and bathroom fixtures. The presence of iron in well water turns to ferrous state. If iron exposes in the air, it changes into a ferric state.

When it is taken out of the water, fresh water is found. The presence of ferric forms insoluble rust turns red.

Staining is caused by the presence of 0.3 milligrams per Liter (mg/L). There are many techniques to solve this problem; all are up to the concentration of iron.
Iron Bacteria
Sometimes the iron problem is the straight consequence of an infestation of iron bacteria. Though the bacteria do not create any health hazard, they discolor fixture, may block valves and pipes and make the water unpalatable.

The best method to control this problem is shocking chlorination. This is a direct treatment for water system of a well with 15 to 20 L of chlorine bleach.

The strong chlorine solution is used in the well and water system 8 hours before being flushed out. Be confirm, shock chlorination will not resolve the problem enduringly, but this can check bacteria.

The procedure must be maintained before choosing iron removal apparatus. Shock chlorination is suggested for the constant successful operation of water management equipment during the spring season.

When you see continuous chlorination in the well water use liquid chlorine or dry pellet. Sometimes this treatment is a must as iron bacteria may not be fruitfully maintained by shock chlorination.
Types of Iron in Water
Iron is found in water supply in 2 individual forms: insoluble or ferric iron and soluble or ferrous iron. Soluble iron is a kind of iron which dissolved in water. Dissolve iron needs to be turned insoluble to remove it from the water.
Fortunately exposing iron in oxygen causes it to change; unluckily it turns insoluble for your home. Moreover, the iron may leave deposits and settle out in your pipes, water heater and for your dishes and clothing.

It is normally very simple to tell as there is iron in your water. It is very wise to test the iron levels in your water or find out if there is an additional pollutant in water or not. All our famous tests kits examination for iron. We like to test sulfur bacteria and iron also.
Researched And Proven Quality Best Iron Water Filter On The Market
Meter based rejuvenation fleck 5600Sxt digital control head has one bypass valve 10 inches x 54 inches structural USA tank.
They may treat about 14 Gpm particular fine mesh resin. The filter is designed to last for a longer time with the attendance of iron and better filter.
Remove iron of firm water that makes scale build up. It also removes iron which is responsible for red staining by the single system.
Hard water makes a white peeling build up named as scale on the appliance faucets for usual contact with water.
When this scale up is removed from the hard water, the water taste will be great. Moreover, except adding tear and wear of scale build up in your appliance remains for a long time.
Select the best iron removal for hard water. The system eliminates red staining from iron and removes scale build up from the water.
Features of

Iron Pro 48k Water Softener


The WGB22BM whole house filtration system is perfect water filtration system to clean up well water.

Just like the point of use methods which are set up to supply water for a particular faucet, the WGB22BM filters water from various sources.
It means water out of each output in your house may go through 2 filtration stages of the WGB22BM. Therefore what do these 2 stages of filtration ensure?
In the first stage of the WGB22BM house has a five micron CTO coconut shell carbon block filter.
Be sure black carbon is very effective than other types of carbons. It is ground up carbon filled in a coagulated block. This means that they have top graded density rather than other kinds of carbon filters.
Besides they are more effective to remove the desired amount of pollutants. This filter removes odor and bad taste, eliminating up to 90% of sediment and chlorine from water.

The filter is very effective to remove organic chemicals such as herbicides, industrial chemicals, and pesticides.

In the next state of WGB22MB has manganese and iron reducing filter. This is also fantastic for the plethora of heavy metals available in well water sources.

The FM25B iron, as well as manganese removing the filter, is merely contained with the WGB22BM. The reason is that it is not a must for municipal water supplies which the WGB22B aims.
Features of

iSpring WGB22BM 2-Stage Big Blue Whole House Water Filtration System
Excellent for a well water facing manganese, iron and sulfur problem to about 3 ppm added contaminant load.

Did you analyze your well water before buying? Fully Assembled Home Master 3 stage Whole house filter removes turbidity, sediment, sulfur smell, manganese, iron, herbicides, pesticides and other chemicals.
The mission of the Home Master Whole house water filter is to ensure clean water for each faucet and bath in your house without down water pressure.

The Home Master Filter Pressure Performance Series is made to ensure comfort in mind. It has housing, oversized filters, fittings and all other features to confirm water pressure.

The Bigger housing means bigger filters that need less frequent service. It saves both your money time. Various gradient depth polypropylene sediments filter are normally found in the market.
Features of

Home Master HMF3SDGFEC Whole House 3-Stage Water Filter


There is a flow meter with the system to measure the amount of water use and regenerate as required. It lessens lowers waste and uses salt in water.

The system has an LCD monitor to show the error code, troubleshooting, and information. We like to use the stronger paddlewheel style meter to catch pollutants.
Touchpad control is trouble free to use. For this feature, it is possible to control all settings and characteristics.


A complete system in your house has all components. They require fine mesh resin, the resin tank, brine tank, and control head with safety float for operation-.
Camco's EVO Premium RV Water Filter removes odors, bad taste, chlorine, bacteria, sediment and more other.

There remains one extension hose, the filter housing, one replaceable, premium spun polypropylene filters cartridges. Filtration starts when water goes inside the porous shell with an opening not greater than five microns in diameter.
Lastly filtered water passes through the granulated activated carbon and a bed of KDF for removing bacteria and further filtration.

The goal is clean, fresh, super tasting drinking water direct from the tap. It adds to the externally RV's fresh water hose connection.

The lifespan of the filter is one camping season. CSA low lead content certified. Complied with Vermont Act 193 Low Lead laws and California's AB 1953.
Features of

of Camco 40631 EVO Premium Water Filter


Watch The Video On Best Iron Water Filter That Removes Iron From Water
Best Iron Water Filter Cartridge On The Market

The capacity of the Pentek RFFE-10BB Iron Reduction Big Blue Filter Cartridge is about 3ppm of mixed iron from water. It is used for 10 inch Big Blue filter housings.

The flow rate is 8 GPM. The RFFE-10BB filter cartridge is made of remove iron from water. The method is very simple and effective. The filter is also greatly developed the taste of water.
Moreover, the filter removes 3 ppm of mixed iron easily. It also reduces the metallic taste of water and develops flavor.

It is suggested to use a pre-sediment filter to expand the life of the filter. The other benefit of the filter is that it removes heavy sediment from water.
Water filters eliminate chemicals, undesired particles, and microorganisms from water by using a semipermeable barrier, biological processes, and absorption.

They are composed of densely packed synthetic or natural fibers which hold particles, materials. Besides the filter blocks microbes and holds unexpected chemicals or substance.

They are responsible for chemical change like acid neutralization. For most commercial, residential and industrial application water filters are made of replaceable cartridges which adjust inside the undying housing.
Filtration systems are made of 2 or more kinds of filters. Each is designed to eliminate various contaminants. The performance of the filters is calculated by the least particle size, the percentage of microorganisms and particles that removed.

One needs to consider the maximum flow rate, the downstream absorption of unnecessary chemicals and the total water before replacing the filter.
Features of

Pentek 150233, Big Blue


We are giving the service of many products such as commercial and residential reverse osmosis system, ultrafiltration systems and whole house water systems.

We also ensure countertop filters, faucet, shower, filter cartridges and housings, kitchen faucets, fitting and RO coolers.
Manufacturers have an intention to ensure pure drinking water for all households. With solid quality, reasonable price, top notch customer service, prompt delivery we like to aid more to get fresh water for every home for future years.
Features of

iSpring FM25B 4.5″ x 20″ Big Blue Replacement Water Filter
Home Master Water Filter and 20-Inch Big Blue water filter housing is a perfect Iron treatment for more flow applications.

Radial Flow design gives super iron reduction with minimal pressure drop. The capacity to remove manganese and iron from the water I up to 3 ppm combined.
Water heater damages and reduces pipe that is caused by hydrogen sulfide, manganese and iron lifecycle dependent. In the box, there is replacement filter cartridge.
Features of

Home Master CFRFFE-20BB Replacement Water Filter


The KDF media filter cartridge is famous for removing hydrogen sulfide and iron. Its activated carbon is very effective against taste, odor, and chlorine.

The specialty of the system is that it applies high purity copper zink granules. The benefit is that it removes oxidations or redox reaction and contaminants.

Kdf 85 process is very successful for removing iron and hydrogen sulfide agent. They are used to save the existing water filtration or purification technologies in PoE treatment for groundwater supplies. Kdf 85 media is very effectual.
Its tank size necessities are modest for economic system installation and engineering. This is a great choice if you like to remove lots of pollutants from water. Be happy to know that they lessen scale build up and save against algae growth and bacteria.
Features of

APEC 10″ Whole House Replacement Water Filter
Iron Filters Use a 3 Step Process
Air Injected Iron Filters, Greensand Filters, Chlorine Injected Iron Filters and Pyrolox Filters all go after a three Step Process:
Pre-Treatment aka "Oxidation."
Pre-treatment requires an oxidant for causing pollutant in water to impulsive and settle out. The size of the precipitated pollutants is bigger. They may clump together therefore by straining it is possible to remove them.

Chlorine, hydrogen peroxide, ozone, and air are usual oxidants which entered in water at the time of pre-treatment.

The chemical coating above Birm, Greensand and Pryrolox have few oxidizing abilities of their own. They are designed more effectively for having stronger oxidant.
Filtration
Think you are cooking dinner. You have just completed boiling some ravioli on the stove and the time comes to drain out water.

Since you normally pour the ravioli to a strainer, they may injure well and water moves down the drain.

Now think differently. Colander said what will be if these ravioli are propelled with great velocity. What may occur? Great, some ravioli may handle to be strained out but the other may disintegrate and blow accurately.

Filtration functions are surely the same procedure.

When water goes very slowly through the filters, be sure it has mechanically strain crud such as manganese, iron, arsenic, hydrogen sulfide from your water. Pass water very quickly- you will know the real picture.
Backwash – The Final Step
If a filter removes full of the slush from water, it just needs to clean completely.

A backwash is a powerful flush to remove the slush.

When a filter is not clean, it may be loaded up with crud. Moreover, it starts solidifying to a massive chunk which may weight 100's and 1000's of pounds. No necessary to say that they will stop the function of the filter.
Iron Water Filter Types
In the market, you will get various types of procedures to remove magnesium and iron from your water. But for US water supply, we suggest two types of backwashing iron water filters:

Katalox Light filters and Catalytic carbon filters added with hydrogen peroxide oxidation. You have to know that every type of system has its merits and demerits.

Our trusted Certified Water Specialists show you the way to determine what type of system is fit for your home. For details make contact with them as per your need.

Fusion OXi-Gen Whole House Backwashing Filter is used to remove Iron and Sulfur from the water.
Hydrogen Peroxide Oxidation Plus Catalytic Carbon Filtration
The whole iron water filter combines hydrogen peroxide oxidation along with a catalytic carbon filter. Hydrogen peroxide is a very effective oxidizer, making manganese, hydrogen and iron sulfide in water simple to remove.
The filters do work well as manganese, iron and hydrogen sulfide are exposed to oxygen. They become solid or insoluble in the water.
If contaminants are solid, they must be filtered out by a carbon filter. Catalytic carbon increases the oxidation system by making it a great choice for using an iron filter.
Oxidation followed by the filtration system is thought to be the best and very effective system to remove great levels of iron from water.
The system does not need any regular maintenance. Hydrogen peroxide tanks must be refilled since it is used up. The carbon filter media needs both eventual replacement and periodic backwashing after few years.
Oxidizing Filters
An oxidizing iron water filter removes iron effective from the water. In the filter, there is Katalox Light media.

The Light is a filtering media having more surface area that filters down about 3 microns. The specialty of the area is that it can trap manganese particles and insoluble iron.
The media covers ten percent manganese dioxide coating. This capacity is higher than other types of oxidizing media. Supertype of the coating is made of media's lightweight.

For such quality, it is very easier and helpful to backwash rather than another same type of ion eliminating media types.

This kind of backwashing water iron filter is suggested for commercial purposes. If you see there are sulfur and iron reducing bacteria in water, we would not suggest such kind of filter.
Alternate Methods for Removing Iron
Though a backwashing iron water filter is a usual and effective system to treat water, there are other methods also.

Modern ozone system is a backwash filtering system works very well. But the demerit is that they are very expensive. Not only that they require much money from the homeowner.

A water softener must remove some manganese and iron from water. This is not very effective like the other methods and rapidly fouls the softener resin.

Sometimes iron is treated with polyphosphate but this process only prevents iron from staining. It does not remove iron from water at all. Finally, it does not affect manganese.
Frequently Asked Questions (FAQs) on iron water filter

Question: How do iron filters work?

Answer: If your water is underground on your well, it's generally bright in color, though it could contain elevated levels of iron. This is called 'ferrous' or crystal-clear water iron. Iron filters require this crystal-clear iron and change it into rust or ferric iron from the process called oxidation.

These trapped particles are occasionally and automatically backwashed outside to drain, typically one or two times per week. Most iron filters eliminate both very clear water and ferric iron (rust).

Question: How can they eliminate manganese and iron from water?

Answer: They trigger stains when subjected to the atmosphere in the laundry, bathtub, etc., by rusting and oxidizing. The green sand filter press oxidizes dissolved manganese and iron on touch since the water flows throughout the green sand filter, also induces these components to precipitate (or form solids) from the bed of this filter. The iron filter medium backwashes those tiny elements to drain every couple of days at the mid night (or any other preset period), thus restoring and cleaning the filter press. To supply the oxidizing capability to precipitate the compounds, the filter is mechanically restored and disinfected with potassium permanganate (a purple liquid)during every backwash cycle.

Question: What's the distinction between "greensand-plus filters" and "greensand filters"?

Answer: The gap between Greensand Plus and manganese greensand is at the substrate, which forms the heart of social media and the way where the manganese dioxide coating is directly connected to this bacterium. The silica sand center of Greensand Plus lets it better withstand working conditions in waters that are very low in silica, hardness and total dissolved solids (TDS). Greensand-plus doesn't demand potassium permanganate, but it will need one feed chlorine before this greensand-plus filter. If you're thinking about using chlorination, we generally recommend greensand-plus iron filters, even if you do not intend to chlorinate (or utilize ozone) before this filter system, then the standard greensand filter functions better.
Finally The Iron Water Filter
A Perfect Water Systems Iron Filter can be cost effective; they solve all problems. The iron manganese removal filter is set up with your main supply.

The iron water is filtered under pressure by a vessel having manganese greensand. The filter removes iron by flushed out the vessel at night time and prepares it to use for the next day.

You will get pure fresh and clean water. You must not spend much time, effort and money to clean up the residue of the iron water.